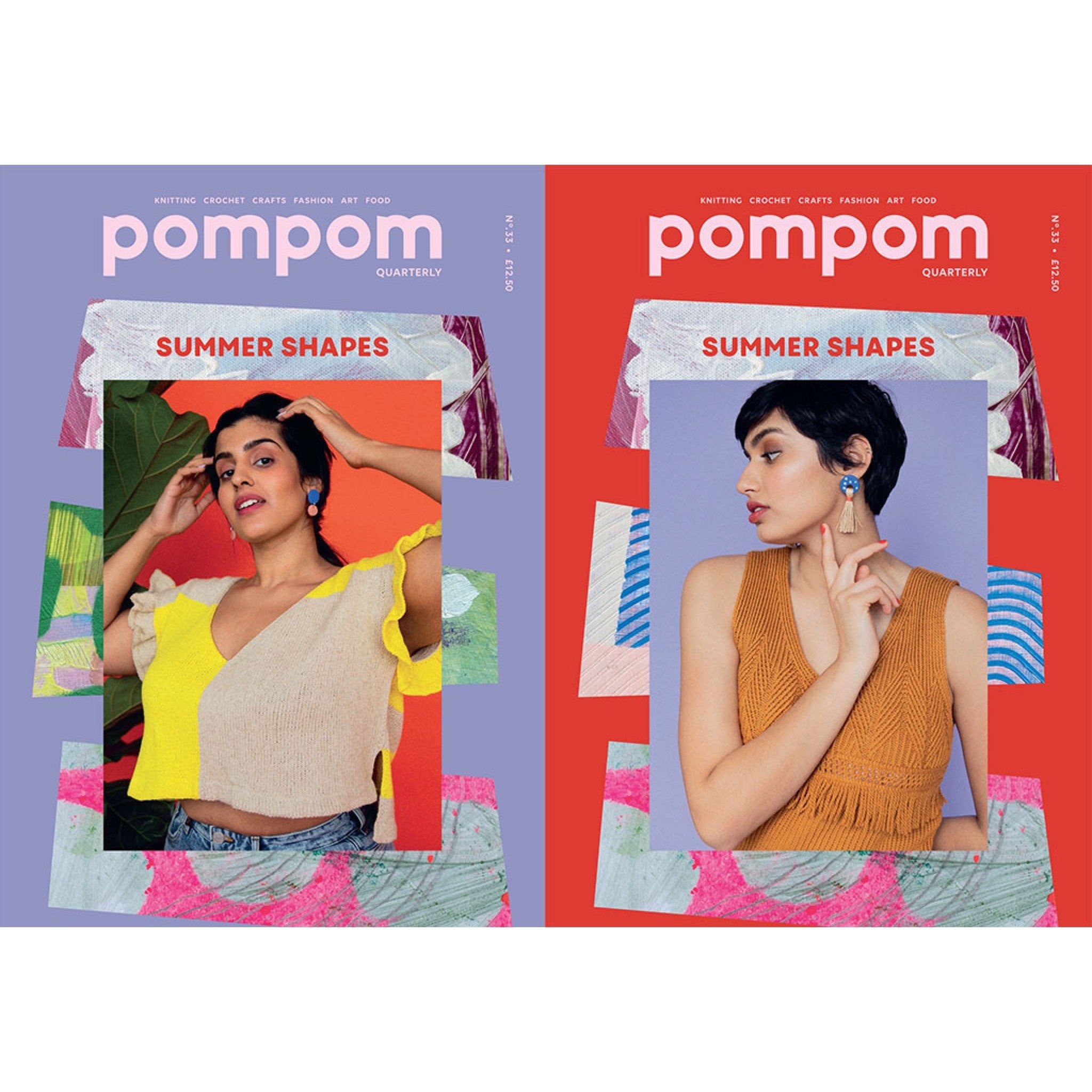 PomPom Magazine Summer 2020
The theme for Pom Pom's summer issue is the sun – as they've moved through the classic elements of water, earth, and air for their quarterly inspiration they next looked to fire, by way of this life-giving star. The designers have embodied its energetic colors and radiance as their inspiration, creating pieces for this season to enjoy from sunrise to sunset.
This issue has two covers. But don't sweat, no matter which cover you receive, exactly the same wonderful content is inside.

The world has taken a difficult turn since Pom Pom started compiling this issue, and while the sun shines we are all staying indoors as much as we can. They offer their hope that many of you, in this time of social distancing and change, can take comfort in the familiarity of crafting. They hope that this summer collection of knit and crochet warm-weather makes will transport you in whatever way you need. The summer issue always aims for items truly wearable in warmer climes but this quarter they aim to convey an extra dose of joy and comfort also.
Featuring designs by:
PAULA PEREIRA // AMALIA SIEBER // RACHAEL REESE // ISA CATEPILLÁN // NATALIYA SINELSHCHIKOVA // WENCKE PERTERMANN // ERICA SUFKA // SANDRA GUTIERREZ // EZGI TANDOGAN ONAT //  JULIA WILKENS //  MARJAN GOUDA
The sun also shines on Kat Goldin's recipe, a simple handmade pasta flavored with sun-dried tomatoes and our fun crochet tutorial that accompanies Marjan Gouda's scrunchie pattern. There is also incandescent artwork by Juju Vail to accompany vibrant photography by Shingi Rice, and luminous jewelry from Ilista Studio styled alongside the collection's pieces.
We hope with all our hearts that this collection of tops, along with two shawls, and a bag, shares the euphoria the sun can bring.
Printed in the UK on lovely heavy paper.
– includes digital download code  –
recipes, articles, tutorials + more!