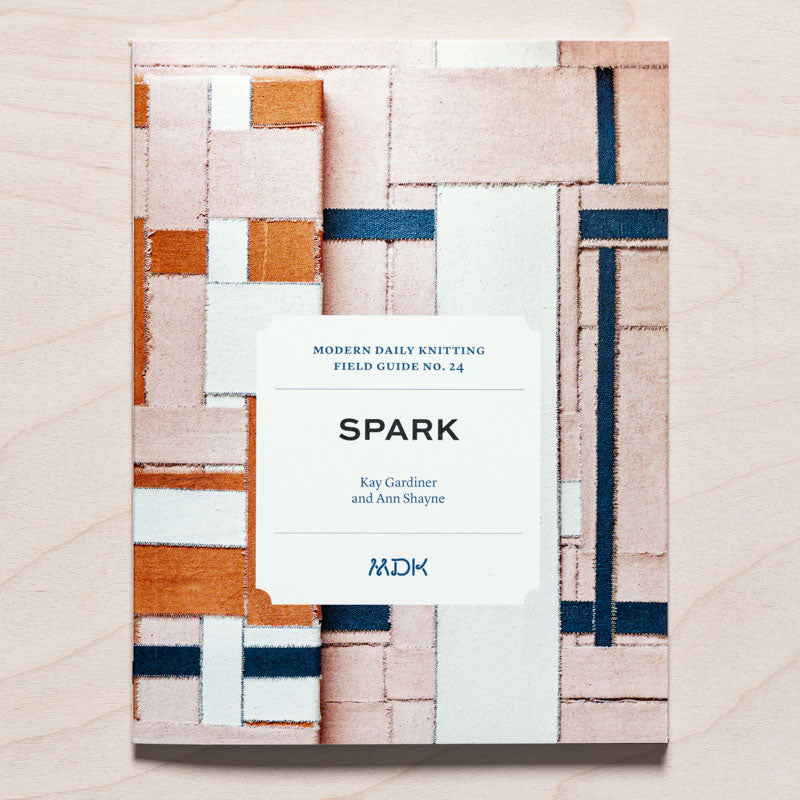 MDK - Field Guides
Save

Liquid error (snippets/product-badge line 32): Computation results in '-Infinity'

%
Please be sure to select the correct edition from the drop down below. 
Each copy includes a download code for digital copies of the patterns on Ravelry.
Olga Buraya-Kefelian is one of the most inventive designers working today. These five brand-new designs take us on a fascinating ride. Simple techniques + Olga's brilliant mind = handknits that will leave your friends asking, "How in the world did you do that?"
Olga understands what we knitters love. We want knitting that isn't too difficult, but has cool surprises along the way. This is the knitting that will take us on a fantastic trip this summer.
Turnstile Wrap. Wear this piece at least five different ways. Already a huge favorite with everybody who's seen this versatile design.
Paragon Popover. We could hardly believe our eyes when Olga showed us this design. It's nothing but knits, purls, increases, and decreases—yet the effect is graphic, modern, a big wow.
Penrose Tote. Olga's fascination with graphic stitch patterns is on full display here. It's designed in two sizes, with a handle that slips through the other to close it. 
Fortune Teller Cuff. A fascinating quick trip into Olga's inventive mind, this little bracelet is almost magic in the way it becomes so dimensional.
Tendril Necklace. How does Olga do it? Such an original construction for this light, summery decoration—so simple and so very cool.
Field Guide No. 23: Glow - Off we go with Arne and Carlos! Welcome to a world of exuberant color and pattern, from the brilliant, beloved designers. Scroll down to see all four designs—this is knitting at its most joyful. Really loving the way Arne and Carlos tap into Norwegian knitting traditions, but with a modern sensibility. So fun!
Setesdal Hat. Get your colorwork going with this simple design—it's a glorious way to try out Arne and Carlos's color sense and easy stitch patterns.
Valdres Pullover. A completely modern take on traditional Norwegian design, this is the sort of treasure to knit and love forever. We love the mix of colors and pattern here, full of surprise and fun.
Rosy Mittens. The classic Norwegian mitten, with modern color added for fun. These are knitted in two colors, then embroidery adds the details.
Kos Neckwarmer. Arne and Carlos are constantly cooking up neckwarmers that are all about whimsy and good cheer. This one is stacked with hearts and zigzags and colorful fun. It also happens to be an incredible warming layer.
Field Guide No. 22: Grace - There's something about Joji Locatelli. Her hundreds of designs are full of surprising touches and inventions that attest to a curious mind. While the details and style of Joji's patterns vary, they share a kind of knitterly charisma. Each garment bears the stamp of wearability and casual confidence.
Joji uses an understated palette that lets you envision each design in your own favorite colors.
Grace Notes Pullover. She had us at "twisted-stitch cables." Ornamented yet understated, full of signature Joji moments, this sweet sweater is simultaneously chic and cozy.
Cuatro Wrap. Four graphic triangles, joined almost invisibly into a lavish stole that looks much more complicated to knit than it is.
Gossamer. A floaty swath of stockinette that can be worn as a vest or tossed over your shoulders like a scarf. For maximum wrapability, make the larger size.
Fancy Beanie. This is what happens when you let an unusually fuzzy yarn work its magic on simple stranded colorwork. Sure to be a hit as a quick gift knit. 
Field Guide No 21: Brioche - This is the Field Guide we have dreamed of creating for a long time.
We were total brioche newbies when we started working with Nancy on this Field Guide. Now, with Nancy's guidance and a set of gorgeous designs, we're confident brioche knitters.
Cushiest Cowl: Elemental, graphic, superfun. This is where we start. Two lengths, short or long. 
Honeycomb Scarf: Broken-rib brioche is one of the most beautiful fabrics we know. With two gradient yarns, it becomes a sophisticated swath of color.
Cocoon Top: Nancy's endless inventiveness gives us this snuggly layering piece—two-color brioche melded with a stitch pattern that adds graphic interest.
Dotty Wrist Warmers: Colorful snack-sized brioche. Includes a set of stitch patterns for varying the look here and also on the Cushiest Cowl.
Field Guide No 19.: Marls - The beloved author and designer Cecelia Campochiaro has the gift of seeing knitting at its most elemental, exploring knitted fabrics at stitch level, from the ground up. Cecelia first introduced us to her groundbreaking concept of sequence knitting, and we've been knitting sequence projects ever since. Now, she's showing us another irresistible sort of knitting.
Marling is the effect we get when we combine strands of different fiber, weight, or color.
This Field Guide is a tantalizing tasting menu of different types of marling. The effects are amazing, and amazingly intuitive to create. The fabrics are a sensory joy to knit, and they are beautiful to wear.
These five designs are elegant canvases for your marling explorations.
With Field Guide No. 18: Beginnings, we celebrate the idea of a new start, that joy that comes when trying something for the first time.
We have had the best time working with Karida Collins on this idea of newness, and especially the idea that sometimes, the simplest projects are the most delightful.
These projects require nothing more than knit, purl, decrease, increase, and yarnover. There's a simple cable in there, too, and that's as fancy as it gets. But look at what amazing effects can come from these most basic of stitches.
Knitting is forever new—each project has its own moment when we decide we're going to jump in. Have a look at these six ideas—there's endless fun to be had here.
MDK Field Guide No. 2 is all about easy entry into the world of colorwork, with four projects that come together fast.
In putting together a new Field Guide, the hard part isn't coming up with ideas. The challenge is to pare down the list. When we began thinking about Field Guide No. 2: Fair Isle, there was no end of possibility. Stranded colorwork is a vast, colorful sea of beautiful things to make. Overwhelming when you first dive in.
Our aim is to provide a mix of patterns that make it possible to play with stranded colorwork at whatever level you'd like to try.
Easy. Easier. Easiest.
Working with our Creative Director Melanie Falick gave us the chance to create some pretty stunning Pinterest idea boards. What surprised us was the way that certain motifs and colorways and shapes kept catching our eye.
A colorful yoke.
A modern Fair Isle pattern.
Socks with something happening.
Through great good luck, we were able to work with three designers whose designs we have admired for years. They took our ideas and surpassed everything we had hoped for.
Véronik Avery.
Ann Budd.
Michèle Rose Orne.
The three patterns in Field Guide No. 2 are as elegant in construction as any we have offered, thanks to the talent of these designers. These are juicy, delicious, addicting patterns.
Véronik Avery's Hadley Pullover is the perfect mix of fit and ease. Michèle Rose Orne's Asterisk Hat and Dot Cowl allow you to play with color and pattern as you like, to cheerful effect. And Ann Budd's Après-Anything Socks, worked in worsted yarn, can be made so fast that they're a candidate for Kwik 'n' EZ Handknit Gift of the Year.
And Sara Remington's photographs remind us that knitting is a beautiful thing.